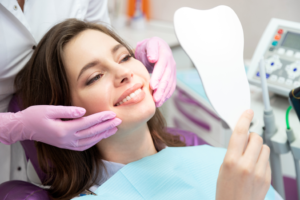 When it comes to first impressions, there is no greater asset at your disposal than your smile. It acts as a magnet, drawing in the attention of those you meet—and if it's beautiful and healthy, it can lead to you making some pretty positive and lasting encounters! That said, more people than ever before these days are opting to receive cosmetic dental work to ensure that their smile always looks its best. Here's more from your cosmetic dentist about the growing popularity of these treatments and why you should consider committing to one of them yourself!
It Encourages Better Dental Health
The bottom line is that even though cosmetic dental work is intended to improve the appearance of one's smile, it often is accompanied by oral health benefits as well. Certain treatments improve teeth in terms of health and beauty—such as veneers, cosmetic bonding, and more. Not to mention, when you visit the dentist, even if it's just for cosmetic dental work, you're allowing your dentist to inspect your mouth and treat any underlying issues. Once the cosmetic dental work has been completed, patients often feel motivated to keep their results, leading them to maintain better oral health.
It's More Affordable Than Ever Before
In the past, cosmetic dental treatment was associated mostly with celebrities or wealthy people, and many did not have access to enhancing the smile they were born with. Now, thanks to advancements in dental technology, the vast majority of cosmetic treatments are very accessible and very affordable. Plus, most dental practices offer various types of flexible payment options and in-house financing plans, making smile augmentation even more affordable.
The Surge in Confidence Is Priceless
As people in today's society become more and more invested in how they present themselves to others, one thing they're becoming more aware of is the appearance of their smile—and the unparalleled boost in confidence that an attractive grin can offer. One of the easiest ways to gain access to such awesome self-esteem is by seeking out cosmetic dental work; a beautiful smile allows you to carry yourself in a way that projects friendliness, reliability, and trustworthiness.
About the Author
Dr. William C. Poe V received his DDS from the USC School of Dentistry and has proudly served patients and families in the Los Alamitos community for several years. His practice is pleased to offer a wide range of cosmetic services that are certain to help you and your loved ones achieve the bright smiles that you've always dreamed of! If you have any questions about the blog or you'd like to schedule an appointment, feel free to contact his dental team online or over the phone for further assistance. Telephone: (562) 594-5067.