Rebuilding Los Alamitos Smiles with Restorative Dentistry
Dr. William Poe offers a wide range of treatments at his dental office that are designed to leave your mouth healthy and beautiful. Treatments offered to our patients include smile makeover , full mouth reconstruction, and dentures.
Your teeth are at work every single day biting and chewing. Therefore, some wear and tear is to be expected. Eventually, you may experience decay, which can destroy a tooth. Injury and tooth loss are also possibilities. Left untreated, these concerns can cause more serious problems. That's why there's restorative dentistry. Dr. Poe is your dentist in Los Alamitos that offers a number of restorative dentistry services to fix dental issues quickly and comfortably so you can once again enjoy the benefits of a healthy smile.
Smile Makeover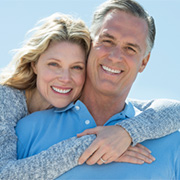 A smile makeover is a custom plan for restoring the healthy and attractive appearance of your smile. You'll meet with Dr. Poe to discuss what you'd like to change about your teeth and maybe even your gums, too. After this consultation, the dentist will present your personalized plan that will combine several services in order to restore your smile. As each procedure is performed, you'll begin to see your new smile take shape.
Full-Mouth Reconstruction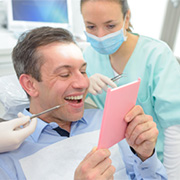 Full-mouth Reconstruction and a smile makeover are similar, but this procedure is geared more toward restoring the functionality of your smile and complete oral health. Reconstruction may span several months or even years. Therefore, in addition to the procedures that will be obvious when you show the world your new smile, there may also be procedures that are not visible, but are equally important such as gum disease treatment and TMJ/TMD therapy.
Dentures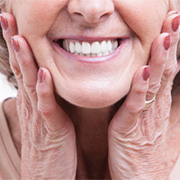 Dentures have been around for hundreds of years. Today, however, the materials available as well as new manufacturing techniques make these prosthetics more natural looking than ever.
A partial denture is ideal if you need to replace one or a few teeth. Based on impressions, the partial is designed to fit snuggly into the gap in your smile. False teeth are attached to a metal frame with clasps that hold the partial in place.
A full denture can be designed for either the upper or lower arch if you're missing all of your teeth. With this device, false teeth are mounted on to a gum colored base. The base fits over your gum ridge and is kept secure with muscle tension, suction and denture cream.
Dental Implants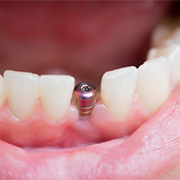 For tooth replacement, nothing beats a dental implant. This offers substitution for both the root and crown of a missing tooth. A small screw-like post is set in your jawbone. With time, the post and surrounding bone tissue fuse together. Once this firm foundation is set, the appropriate tooth restoration is attached. That can be a single implant-supported crown for one missing tooth, a bridge for several or even a denture for people who are missing all of their teeth.
If you have questions about any restorative dentistry procedure, or want to schedule a consultation, please give us a call today.