Dental Implants in Los Alamitos
A missing tooth is a small thing, but it can cause big problems. Your remaining teeth can eventually shift into the open space, which not only makes them crooked, but can also change how your jaw fits together. This can lead to chronic pain, unconscious teeth-grinding, and it even makes you more vulnerable to gum disease! This isn't even mentioning the effect it can have on your self-confidence, and the problems are only compounded if you are missing multiple teeth.
Thankfully, you can now replace them using the most complete and reliable solution available today, dental implants in Los Alamitos.
What Are Dental Implants?
Dental implants are a comprehensive approach to tooth restoration that does what no other procedure can: replicate a tooth from root to crown.
Rather than simply giving you a fake tooth that sits on top of your gums, dental implants are held firmly in place using a small titanium post that is surgically placed into your jaw that will naturally bond with the surrounding bone. Not only does this give it the security of a natural tooth, but it also ensures the long term health of your gums and jaw.
After you have lost a tooth, the body cuts off the blood supply to the area, which can cause the surrounding tissue to atrophy. This can make it much easier for your remaining teeth to fall out. Dental implants help restore this blood flow and keep your mouth healthy just like your natural teeth.
How Many Teeth Can They Replace?
This post can then be topped with a variety of dental prosthetics. Implants are extremely versatile, and can be used to replace a single tooth, anchor a bridge, and even support a set of dentures.
For a single tooth, a porcelain crown will be attached to the post. Dental porcelain is just as strong and durable as natural enamel, and is able to completely mimic a tooth in shape, size, and color. That means the only person who will notice that you have had dental work will be you
Learn More About Single Tooth Replacement
With a bridge, the post (or posts) will be attached to adjoined crowns only person who will notice that you have had dental work will be you.to help fill in the gap in your smile. If you are missing an entire arch of teeth, multiple implants can be used to support a set of dentures that fit better, last longer, and provide a bite force almost 7-times stronger than traditional dentures.
Learn More About Multiple Tooth Replacement
Dental Implant Process
When you come to see your dentist in Los Alamitos, Dr. Poe, about getting dental implants, he will start by examining your mouth and gums to make sure they will work for you. Qualified candidates typically need to have stable overall health, and have an adequate amount of healthy jawbone to support the posts.
Fortunately, Dr. Poe is able to complete all parts of the dental implant procedure in our office, unlike many other practices that would need to refer you to an oral surgeon for the placement. Once he decides to proceed, the process involves 3 basic steps:
Poe will place the new titanium root into your jawbone.
You will be given 3-6 months to heal, as well as allow the implant to bond to your jaw.
On your final visit, Dr. Poe will place your new dental prosthetic.
The placement procedure is a very minor surgery, and most people only require local anesthesia for it to be completely painless. The length of the healing period will depend on your particular situation, and is mostly to allow the implant time to meld with your jawbone (which is a natural process called osseointegration). After your prosthetic has been placed, you'll have very little sensation in the implant itself, but your smile will be fully functional again. They are very easy to maintain; regular brushing and flossing as well as routine visits to Dr. Poe will keep them looking like new for decades.
Dental Implant Cost
If you're still not sure implants are the right tooth replacement option for you, the price tag may be what's holding you back. You're not alone. Our team understands that the initial cost of dental implants is high, and it can be too much for many patients to fit into their budgets. However, if you do want to invest in this tooth replacement option, Dr. Poe and his team would be happy to help you. We offer affordable services, and we're happy to process and file dental insurance claims. While your insurer will not likely cover the cost of implants or their surgical placement, insurance plans do cover other treatments associated with the dental implant process, including tooth extraction and replacement teeth. We also work with CareCredit to provide low and no interest financing plans for qualified patients.
Learn More about Dental Implant Costs
Dental Implant FAQs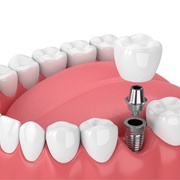 Whether you're replacing one, multiple or all your teeth, dental implants offer a permanent, more durable and longer-lasting solution. As one of many viable tooth restoration options, dental implants in Los Alamitos can give you a fully restored smile and greater confidence. If you want to learn more about them before talking with Dr. Poe, we've compiled the answers to some of the most frequently asked questions about dental implants.
Why Do People Prefer Dental Implants?
While dental implants are not for everyone, they are a leading choice for many people looking to replace missing teeth. This is because they want a more stable, permanent solution. Dentures can slip and require messy adhesives to stay in place. Dental implants are surgically placed, so there's no need to worry about it falling out.
Are Dental Implants Safe?
Dental implants are considered to be one of the safest and most effective tooth restorations available. But it's important to remember that it is a medical procedure, and with any surgery, there can be complications. This is why choosing a well-trained, expert implant dentist in Los Alamitos like Dr. Poe is crucial to ensuring a successful procedure with minimal complications. Should a problem arise, he will be able to handle it with extreme care.
Make sure that during your consultation, you discuss your medical and health history with Dr. Poe, as well as any habits that might affect the success of your treatment.
Can Dental Implants Fail? If So, How?
The short answer is yes, dental implants can fail, and there are many reasons as to why this can happen, including:
Improper placement
The inability to heal as a result of a weakened immune system
Smoking
Infection that occurs in the oral bone or soft tissue
How Do I Care for My Dental Implants?
Once your dental implant is in place, it acts just like a regular tooth. This means, the care and maintenance required are no different than your natural teeth. Simply brush your teeth twice a day for two minutes, floss at least once a day, and make sure to visit us every six months for a regular checkup and cleaning.
How Long Can Dental Implants Last?
One of the great benefits of dental implants is that they're long-lasting. Compared to other tooth restoration solutions, dental implants can last decades or even a lifetime. So, when you're considering dental implants, you can rest assured in knowing you're making a great investment.
Have Questions?
When it comes to replacing your missing teeth, nothing else can provide the reliability, longevity, and aesthetics that dental implants can. They are the most comprehensive solution available today, which is why more and more people are choosing them to complete their smile.
If you have any questions about getting dental implants, or want to schedule a consultation, please give us a call today.