Dentures – Los Alamitos, CA
Replace Your Teeth Without Breaking the Bank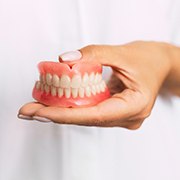 Tooth loss can happen for a wide variety of different reasons, and it affects approximately 178 million Americans throughout the United States. The good news is that you don't need to be sporting gaps in your smile for the rest of your life. If you're missing a few, several, most of, or all of your teeth, dentures in Los Alamitos may be the solution. Dr. William C. Poe provides high-quality dentures for those who are looking to restore their smiles. If you'd like to replace your teeth without breaking the bank, just give us a call! We'd be happy to give you more information and schedule you for a consultation.
Who is a Good Candidate for Dentures?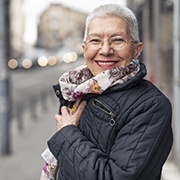 Dentures are an excellent option for people who a missing anywhere from a few to all of their teeth. No one wants to have to worry about feeling embarrassed while speaking, eating, or smiling. Depending on the location of your missing teeth and how many there are, we can create a personalized plan just for you to help you achieve a natural-looking smile that's comfortable, functional, and natural-looking. If you have any existing dental issues, like tooth decay or periodontal disease, they will need to be treated and eliminated ahead of time. This way, your new smile will be healthy too!
Types of Dentures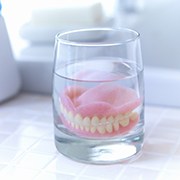 There are a few different types of dentures out there to cater to patients' various needs when it comes to tooth replacement. During your initial consultation with Dr. Poe, it will be discussed which option is the best one for your smile. Here are the different types that are available:
Partial Dentures
Partial dentures are used when some natural teeth are still in place. Partials, which fit around your remaining teeth, are connected by a metal frame, and are held in place by clasps that fasten to your natural teeth. This type of denture can be removed easily for cleaning each day in order to keep it in the best possible shape.
Full Dentures
Just like partial dentures, full dentures are also made using a gum-colored base, but they replace an entire arch of missing teeth. The base is molded to fit against the gum line, creating natural suction that hold the denture in position. Full dentures are easily removable for both sleeping and thorough cleaning.
Implant Dentures
For a more stable, long-lasting denture, dental implant dentures may be the answer. After placing a series of dental implants throughout the jawbone and attaching a customized restoration, you can expect 70% of your natural chewing function to be restored. The denture is designed to last for decades with proper maintenance and care, so you don't need to worry about having any alterations made to your dentures or having them replaced over time. In order to qualify for implant dentures, it is crucial that you have a sufficient jawbone to support them. It will be discussed whether or not you make a good candidate during your consultation.
The Benefits of Dentures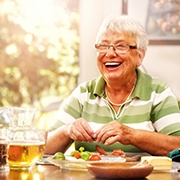 There are all sorts of benefits of opting for dentures as a tooth replacement option. They can help to prevent oral health issues in the future that are caused by tooth loss. They can also allow you to maintain proper function and a more natural facial shape. Dentures are also generally the most affordable option out there for replacing teeth, and some health complications can make other forms of replacement impossible.