Dentures – Los Alamitos, CA
Replace Your Teeth Without Breaking the Bank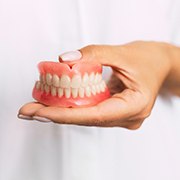 Tooth loss can happen for a wide variety of different reasons, and it affects approximately 178 million Americans throughout the United States. The good news is that you don't need to be sporting gaps in your smile for the rest of your life. If you're missing a few, several, most of, or all of your teeth, dentures in Los Alamitos may be the solution. Dr. William C. Poe provides high-quality dentures for those who are looking to restore their smiles. If you'd like to replace your teeth without breaking the bank, just give us a call! We'd be happy to give you more information and schedule you for a consultation.
Who's a Good Candidate for Dentures?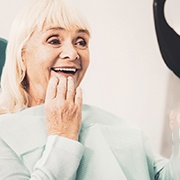 Almost anyone can qualify for dentures, whether you lack a few teeth or many. The treatment's requirements usually aren't that strict. Even so, you must consult Dr. Poe to confirm your candidacy first. That way, he can determine whether you're eligible for the restorations. Even if you aren't, though, don't worry – we also provide other tooth replacement options. With that said, please keep reading to learn more about this vetting process, or call us for the relevant details.
Effects of Missing Teeth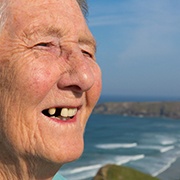 If you're considering dentures, you likely want to avoid tooth loss effects. After all, a mouth missing its teeth can suffer various long-term problems.
You might lose the teeth in question for various reasons. Tooth decay, for example, can make a pearly white so unhealthy that it falls out or needs extraction. On the other hand, gum disease could erode the bone and tissue securing your teeth. Plus, there's always the chance a tooth or two get knocked out from a physical injury.
Still, lacking teeth produces the same problems regardless of the cause. One is increased difficulty with tooth-related tasks – eating, speaking, smiling, etc. Another, meanwhile, is jawbone erosion that can result in facial collapse. Untreated smile gaps will even, over time, tilt surrounding teeth until they, too, fall out.
What Qualifies You for Dentures?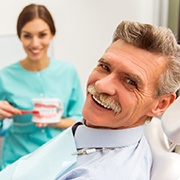 Besides major tooth loss, several things can qualify you for dentures. Such factors include general oral health, the number of teeth lost, and your budget.
To determine treatment candidacy, Dr. Poe will assess your oral health. In particular, he'll see if you also have conditions like tooth sensitivity or decay. If you do, dentures could be your ideal option. Of course, he must also ensure you have healthy gum and jaw tissue. Otherwise, your mouth won't support the prosthetic teeth.
How many teeth you've lost will influence the denture type best for you. A full one might work out if you're missing a whole arch of teeth. A partial type is better when you only lack a few chompers.
Patients looking to save money will find dentures especially appealing. These restorations, you see, are cheaper than other kinds. They're thus a great option if affordability is a concern.
Alternative Tooth-Replacement Options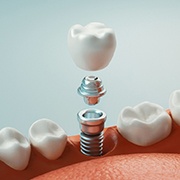 In the event you don't qualify for dentures, don't panic. We at Dr. Poe's office have other tooth-replacement options available. To be more specific, we happen to offer dental implants.
Put simply, dental implants are restorations placed directly in your jawbone. Their titanium bases allow them to fuse gradually with your jaw. Unlike dentures, then, they're permanent and don't slip or fall! However, these features don't come cheap, making implants a more expensive treatment than traditional dentures.
Types of Dentures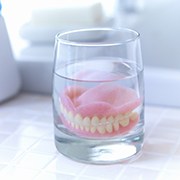 There are a few different types of dentures out there to cater to patients' various needs when it comes to tooth replacement. During your initial consultation with Dr. Poe, it will be discussed which option is the best one for your smile. Here are the different types that are available:
Partial Dentures
Partial dentures are used when some natural teeth are still in place. Partials, which fit around your remaining teeth, are connected by a metal frame, and are held in place by clasps that fasten to your natural teeth. This type of denture can be removed easily for cleaning each day in order to keep it in the best possible shape.
Full Dentures
Just like partial dentures, full dentures are also made using a gum-colored base, but they replace an entire arch of missing teeth. The base is molded to fit against the gum line, creating natural suction that hold the denture in position. Full dentures are easily removable for both sleeping and thorough cleaning.
Implant Dentures
For a more stable, long-lasting denture, dental implant dentures may be the answer. After placing a series of dental implants throughout the jawbone and attaching a customized restoration, you can expect 70% of your natural chewing function to be restored. The denture is designed to last for decades with proper maintenance and care, so you don't need to worry about having any alterations made to your dentures or having them replaced over time. In order to qualify for implant dentures, it is crucial that you have a sufficient jawbone to support them. It will be discussed whether or not you make a good candidate during your consultation.
The Benefits of Dentures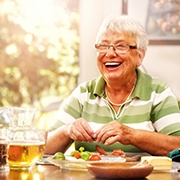 There are all sorts of benefits of opting for dentures as a tooth replacement option. They can help to prevent oral health issues in the future that are caused by tooth loss. They can also allow you to maintain proper function and a more natural facial shape. Dentures are also generally the most affordable option out there for replacing teeth, and some health complications can make other forms of replacement impossible.
Understanding the Cost of Dentures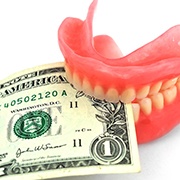 While you may have learned about the various kinds of dentures and the benefits you can expect from them, you might wonder about the overall cost of the treatment. You'll want to make sure that your chosen tooth-replacement option can work with both your smile and your budget. However, since every treatment is customized for each patient, you won't find a flat fee. Our team will assess your oral health and provide you with an accurate price estimate during your initial consultation. In the meantime, here's what you should know about the factors that can influence the cost of dentures in Los Alamitos.
Factors That Affect the Cost of Dentures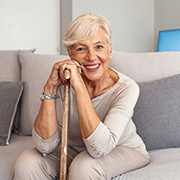 Dentures are custom-designed for each patient to guarantee a natural-looking and well-fitted restoration. For this reason, there won't be a set price for your treatment. During your initial consultation, Dr. Poe will evaluate your oral health before determining the best approach for renewing your full smile. This will include how much you'll pay and the factors that can impact the cost, such as:
The severity of tooth loss.
The need for preliminary procedures, like periodontal therapy and tooth extractions.
The kind of materials used, like acrylic vs. porcelain.
Are Implant Dentures More Expensive?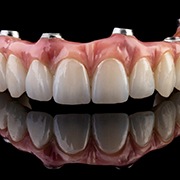 You would have to undergo oral surgery to get implant dentures, so they'll usually come at a higher upfront cost than traditional ones. That said, you'll want to assess the essential benefits you'll receive from this state-of-the-art restoration solution. Not only will you regain your complete smile, but the metal posts will also help preserve your jawbone. Furthermore, any remaining teeth will be less likely to shift out of place, and your results can easily last several decades to a lifetime with proper care. Although the price is initially higher, their longevity and success rate can make them more cost-effective down the road.
Does Dental Insurance Cover Dentures?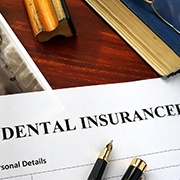 Since dentures are essential for restoring people's smiles and quality of life, many dental insurance companies offer coverage for the cost of treatment. Even so, every policy is different, so you'll want to verify the details of your plan with your provider so you can budget accordingly. Our knowledgeable team will also be more than happy to help you navigate your policy and capitalize on your benefits to ensure a stress-free experience!
Other Options for Making Dentures Affordable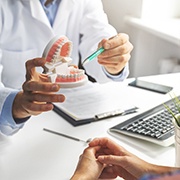 Even if you don't currently have dental insurance, it doesn't mean you'll be left on your own to pay the entire price of dentures out-of-pocket. There may be alternative financing options that can help make your restoration treatment more manageable for your wallet. Our team wants to ensure that you get the incredible and reliable dental care you deserve without feeling stressed about the expenses. Feel free to consult our friendly staff and we'll be glad to help.
Dentures FAQs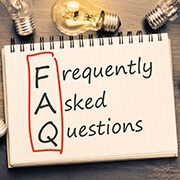 Living without a complete smile can affect your appearance, oral health, and confidence. But don't worry! Our team is dedicated to helping you discover the best way to replace your missing teeth. That is why we have collected the most common questions regarding partial and full dentures and answered them below. If you do not see your specific concern addressed here, please do not hesitate to schedule a consultation with Dr. William Poe, an experienced denture dentist in Los Alamitos.
Can I Sleep with My Dentures?
Generally speaking, it is better to take your dentures out at night when you go to bed. Wearing dentures restricts the circulation in your gums, which can lead to soft tissue irritation and potentially speed up ridge resorption. By taking dentures out while you sleep, you're giving your gums a chance to recover. In addition, bacteria thrive in dark, moist spaces like the underside of dentures. For this reason, sleeping with dentures has been found to be associated with a higher risk of pneumonia. Poor oral hygiene and higher levels of gum and tongue plaque are associated with wearing dentures for too long.
What Is the Average Age for Dentures?
Tooth loss is not inevitable, but those who do lose teeth tend to be older. According to the National Center for Health Statistics, only 33% of adults aged 20 to 39 are missing at least one tooth. In comparison, over 65% of adults between the ages of 40 and 64 are missing one or more teeth. So, you are more likely to need partial dentures or full dentures over the age of 40. However, although the need for false teeth generally increases as you age, people of all ages can potentially be candidates for dentures in Los Alamitos.
What Can't You Eat with Dentures?
While full and partial dentures help restore some chewing power, you will likely have to avoid some of your preferred foods. For example, sticky foods like peanut butter and gummy candies can pull your dentures out of place. Not only does this make them difficult to chew, but it allows food particles to become trapped under the dentures, irritating the gums. In addition, next time you go to the movie theaters you should avoid the popcorn. Small pieces like popcorn kernels, shelled nuts, and sesame seeds can get stuck in and around your dentures and could even damage them. Finally, tough meats like steak and pork chops require an excessive amount of chewing, and that can put a lot of stress on both your dentures and your gums.
Will Dentures Change the Shape of My Face?
Restoring your teeth are not the only way dentures in Los Alamitos can boost your looks. When teeth go missing, the facial muscles begin to sag, which can give your face a sunken appearance. Dentures provide support to these collapsed facial muscles. It's important to make sure your new dentures fit perfectly in your mouth. Otherwise, they may not give your facial muscles the proper support. If you find that your new replacement teeth don't fit properly, you should have them refitted or replaced as soon as possible.