Your Rossmore Dentist & Team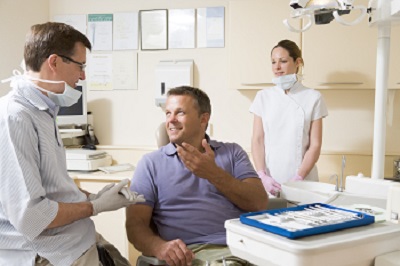 At the Los Alamitos dental office of William C. Poe V, DDS, we welcome patients from Rossmore and throughout Orange County. We offer a wide range of dentistry services to keep patients' smiles whole and healthy for a lifetime. If you're looking for a new dental office, we invite you to call our Rossmore dentist to schedule your dental checkup with our skilled and caring dentistry team today. We offer more than just dental care. We offer a dental practice where you'll always feel welcome, relaxed, and right at home.
Wide Range of Dentistry Services
We do our utmost to provide all of the dentistry services you and your family need under one roof, so you won't have to leave our office for any of your dental care needs. Some of the services we offer include:
Preventive dentistry – dental checkups and teeth cleanings that keep every member of the family smiling. We partner with patients to create personalized preventive treatment plans to help them maintain the optimal level of oral health.
Restorative dentistry – we offer conservative restorations. By preserving the optimal level of healthy tooth structure and repairing full form and function, we ensure patients will keep flawless, healthy smiles for life.
Cosmetic dentistry – if patients are unhappy with any aspect of their smiles, we can help them transform their appearance with teeth whitening, porcelain veneers, and complete smile makeovers.
Advanced dentistry – in addition to these traditional dental services, we offer a wide range of advanced dental options including dental implant supported tooth replacement, traditional orthodontics (braces), and oral appliance therapy for sleep apnea sufferers. We are truly your one stop oral health care shop.
Optimal Convenience
We're here to help whenever patients need us. We offer family appointment scheduling to help fit dental care into the busiest schedules. We'll also be happy to see patients for same day emergency dentistry services whenever possible. Don't hesitate to reach out to us for all of your dental care needs. We look forward to helping you and your family achieve and maintain your healthiest smiles.
Choose the Best Dentist in Orange County
Dr. Poe has been voted the best dentist in Orange County, and he's well worth the short drive from Rossmore. With years of advanced dental training and experience, Dr. Poe delivers comfortable, effective dental care. In addition to providing a wide range of quality dental services, Dr. Poe also prides himself on offering patients gentle, attentive service that makes them feel comfortable throughout the most advanced dental procedures.
Caring Dentistry Team
In addition to having a dentist voted the best of Orange County, our office also boasts a skilled and caring dentistry team. Everyone in our office works hard to help patients feel welcome and right at home while delivering high quality dental care that will exceed patients' highest expectations. Let us show you a different kind of dentistry experience that you will look forward to each year.