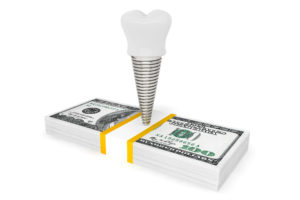 Do you currently wear dentures but want a more reliable, long-term solution? With each passing year, implant dentures are growing in popularity. However, implant treatment typically costs more than traditional restorations like crowns, bridges, or dentures. If you're a price-sensitive shopper, you may be wondering if dental implants are really worth the cost. Keep reading below to discover the answer.
What Are Implant Dentures?
Traditional dentures sit on top of the gums and stay in place through natural suction. As their name suggests, implant dentures are a set of artificial teeth that connect to four or six strategically placed dental implants. The implants – small titanium posts or screws – are inserted directly into the jaw, where they fuse with the surrounding bone. By replacing the missing tooth root structure, dental implants provide superior stability and improved dental function compared to dentures or bridges.
Are Dental Implants More Expensive?
Implant dentures typically cost more upfront than traditional dentures, but for good reason. Dental implants in Los Alamitos offer a range of unique benefits, such as:
Restore Chewing Power – Implants integrate directly with the jawbone, providing maximum chewing power for eating your favorite foods.
Prevent Bone Loss – Implants stimulate the jawbone just like tooth roots do, preventing bone deterioration.
Natural Appearance – Dental implants are custom-designed and the attached dentures or crowns have a translucent quality similar to natural teeth.
Versatility – Dental implants can replace one tooth, several teeth, or even an entire arch.
Long-Lasting – With proper care and maintenance, dental implants can easily last for decades. Traditional dentures usually must be replaced every five to seven years.
How to Make Implant Dentures Affordable
Unfortunately, most dental insurance plans do not cover the cost of dental implants. However, you may be able to apply your insurance benefits to some preliminary treatments, like a bone graft or gum disease therapy. If your employer offers Health Savings Accounts (HSA), or Flexible Spending Accounts (FSA), these funds can also be put towards the cost of treatment.
Qualified patients can also apply for flexible financing through CareCredit. A trusted partner, CareCredit offers low- and no-interest financing plans that make it easy to fit implant dentures into any budget. Instead of paying upfront, you can spread payment for your implant treatment over the course of six months to a year.
Are You a Good Candidate?
If you are missing most of your teeth or currently wear dentures and want a more reliable restoration, you are likely a good candidate for dental implants. While every case is slightly different, in general, successful implant candidates must have:
Healthy teeth and gums
Adequate jawbone thickness
Good oral hygiene habits
The best way to determine if dental implants are right for you is to schedule an initial consultation with your dentist.
About the Author
Dr. William Poe has helped restore patients' smiles with high-quality dental implants for over three decades. The proud UCLA and USC graduate was voted Best Dentist in Orange County in 2016-2017. To learn more about whether dental implants are worth the cost, visit Dr. Poe's website or call 562-594-5067.