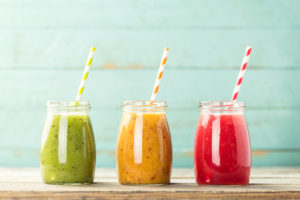 Temporomandibular joint (TMJ) disorder refers to any condition that causes pain and dysfunction in the jaw joint and muscles that control the jaw. According to the National Institutes of Health, over 10 million Americans are estimated to be affected by TMJ disorders. Are you experiencing persistent jaw pain?  Certain foods can make TMJ disorder symptoms worse, while others can provide relief. Here are some suggestions for foods to enjoy (and avoid) when you're dealing with TMJ disorder symptoms. 
What Foods Make TMJ Pain Worse?
In general, you should avoid foods that are chewy, tough, crunchy, or oversized. These items require extra chewing or overextending your jaw and can aggravate your TMJ pain. Some examples of bad foods for TMJ pain are:
Chewy or tough meat, like steak
Bagels, crusty bread, and other chewy baked goods
Apples, carrots, and other hard fruits and vegetables
Hard nuts
Chewy or sticky candies
Chewing gum
The Best Foods for TMJ Disorder
Here are some tips for eating while experiencing TMJ disorder symptoms:
Soft food diet – Stick to soft foods that are easy to chew, like baked sweet potatoes, baked salmon, and scrambled eggs.
Anti-inflammatory foods – Eat a diet rich in anti-inflammatory foods, like fruits, vegetables, whole grains, fish, beans, and healthy fats. Turmeric and ginger also have anti-inflammatory properties.
Limit foods that promote inflammation – Avoid eating a diet heavy in sugar, refined carbohydrates, fried foods, and trans fats like margarine.
Meal and Snack Ideas for TMJ Disorder Patients
Fortunately, there are plenty of foods that you can still eat even when you are experiencing a TMJ flare-up. For example, take a look at the meal ideas below.
Breakfast
Start your day off right with any of the following breakfast options:
Oatmeal swirled with fruit puree and a dash of cinnamon
Scrambled eggs with spinach
Fruit-and-greens smoothie with frozen mango, banana, milk, and a handful of spinach
Lunch
Plan ahead by prepping one of these lunch items:
Southwest burrito bowl with brown rice, black beans, roasted chicken, and salsa
Tuna salad
Soup – almost any variety will do!
Dinner
At the end of a long day, you can sit down and enjoy any of the meals below:
A baked sweet potato topped with chili and melted cheese
Curry served over brown or white rice
Whole grain pasta with roasted chicken, vegetables, and pesto
Snacks
If you're on the go and need a small pick-me-up, snack on one of these:
String cheese
Low- or no-sugar yogurt
Cucumbers and hummus
Watermelon or other soft fruits
Banana with almond butter
In addition to avoiding certain foods, be sure to contact your dentist. Depending on your unique situation, they may be able to reposition your bite to its optimal state, putting it in harmony with your jaw joint, facial muscles, and teeth.
About the Author
Dr. William Poe has over 30 years of experience helping patients achieve healthy smiles and overcome TMJ disorder. The proud USC Dental School graduate has also achieved Fellowship status in the International College of Cranio-Mandibular Orthopedics. To learn more about which foods to eat (and to avoid) for TMJ disorder, visit Dr. Poe's website or call 562-594-5067.