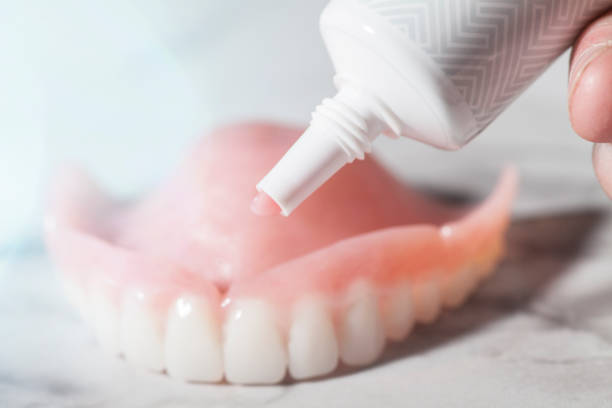 For those missing multiple or all of their teeth, dentures are a great way to fill in their smile so they can get back to laughing, eating, and speaking with confidence and ease. Ideally, your dentures will perfectly fit in your mouth and won't move around too much. Even so, slipping dentures aren't uncommon. Denture adhesive can help hold them in place. There are several different kinds of adhesive, so how can you know which one is right for you? Read on to learn about the types of denture adhesive and how to know which one is the best option.
#1: Creams
Creams are the most popular type of denture adhesive on the market. To use this kind of adhesive, apply a small amount to the underside of the dentures. This will give you a strong hold that lasts all day. Denture adhesive creams prevent food particles from getting stuck under your restorations. It can also prevent gum irritation so your restorations remain comfortable to wear for long periods. Additionally, many creams come in a range of flavors with the added bonus of giving you fresher breath.
#2: Powders
Powders are another kind of denture adhesive that is a popular alternative to creams. Denture adhesive powders can keep your dentures in place for up to 12 straight hours. This type of adhesive is convenient to use and soaks up water so it can adhere your dentures to your gums. To use denture adhesive powder, apply a thin layer to the undersurface of your restorations. Shake off the excess powder before putting them in your mouth and bite down to secure your dentures in place.
#3: Strips
Adhesive strips are a convenient way to prevent your dentures from slipping. They are easy to apply to your restorations. They keep food from getting trapped under them for a secure fit and all-day hold. Each adhesive strip is pre-cut and has just enough adhesive on it to prevent oozing from excess. Even so, it's worth noting that adhesive strips can be a bit expensive.
When Should I Use Denture Adhesive?
Dentures that fit your mouth properly shouldn't require any adhesive, but you might need some extra hold in certain situations, including:
Frequent use of facial muscles – If you're a musician, public speaker, teacher, or have any other career that requires frequent talking, you may need denture adhesive to give your restorations extra stability.
Stroke – People who've previously had a stroke may have experienced changes to their facial structure. Denture adhesive can hold their restorations in place to prevent slipping.
Cold or flu – When someone has a cold or flu, they may have trouble breathing through their nose. This may lead to them breathing through their mouth, which can make it dry out. Dry mouth makes it difficult for your dentures to remain stable, so adhesive may be needed.
Recent tooth extraction – Lack of stimulation from missing teeth can lead to jawbone deterioration. This can cause your dentures to slip. Adhesive can help hold them in place.
Denture adhesive is a great way to provide your restorations with extra stability. This will allow you to enjoy a stable, realistic, and problem-free smile!
About the Practice
Dr. William C. Poe V treats his Los Alamitos patients with the compassionate, effective care they deserve. He offers a range of treatment options, including dentures and other replacements for missing teeth. If your restorations need a little extra help staying in place, he can help you determine what kind of denture adhesive is right for you. Call his office at (562) 594-5067 or visit his website for more information or to schedule a consultation.