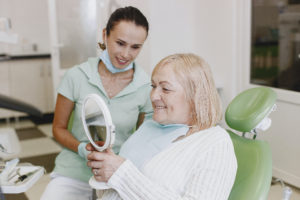 Dentures are a tried-and-proven solution to treat significant tooth loss. New technologies and high-quality materials allow them to look and feel more realistic than ever. They'll fit your mouth like a glove as they rest on top of your gum tissue and are held in place by suction. However, over time, your dentures may begin to slip. While an adhesive can hold them in place, ill-fitting dentures can cause serious complications if the issue isn't addressed. Here are 5 risks of ignoring poorly fitting dentures.
1. Gum Inflammation
Your dentures can rub on your soft tissue, causing inflammation and sores. Although it may not seem too concerning initially, it can make it difficult to continue wearing your dentures because the swelling can worsen and lead to tenderness.
2. Sensitivity and Soreness
If your soft tissues are irritated from friction, even the slightest pressure can be painful, which can make it almost impossible to wear your dentures. You can also experience jaw or facial pain because your muscles will have to work harder to keep your teeth in place.
3. Infections
Slipping dentures can cause sores or blisters, which can lead to painful infections. Your mouth is home to bacteria that can quickly turn a small issue into a big problem that can wreak havoc on your oral and general health.
4. Difficulty Speaking
If your dentures don't fit well, speaking clearly can be challenging if your teeth are moving around in your mouth. In some situations, your dentures may fall out mid-sentence. You might find yourself speaking less because your words are slurred or you're worried about embarrassment from your denture falling out.
5. Nutritional Deficiencies
Poorly fitting dentures can make it almost impossible to eat certain foods, like meat. As a result, you might eliminate several foods from your diet because they are too hard to chew. Unfortunately, this can quickly lead to nutritional deficiencies that can harm your health.
Stop Your Dentures from Slipping
It's normal for the fit of your dentures to change because your hard and soft tissues will shrink over the years. Your dentures won't adapt to the changes. Your dentist can provide the adjustments you need to restore a snug, comfortable fit. You'll restore a functional smile while skipping the risks of slipping dentures.
If you're ready to stop irritation for good, ask your dentist about adding the support of dental implants to your smile. They'll anchor your denture to your jawbone to benefit from unmatched support and stability. Not to mention, they can last for decades with the right care, so you won't have to worry about adjustments or replacements.
About Dr. William C. Poe V
Dr. Poe earned his dental degree from USC Dental School and has completed extensive continuing education in advanced services, like neuromuscular, orthodontic, and cosmetic treatments. He has the training and qualifications to treat the most complex oral health issues. Contact our office today to request your consultation to stabilize your denture.