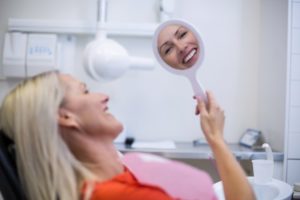 Have you been intrigued by the possibilities with some of the cosmetic dental treatments you've seen, or do you just know you want to make strides in your smile? But you're also thinking that maybe you are just too old to pursue the improvement? Well, forget about that second notion, because age is nothing but a number! And the advancements in modern cosmetic dentistry can make a massive difference in your smile and offer you several pathways to get there. Keep reading to learn why the time is now for your grin with the help of your Los Alamitos cosmetic dentist.
Is My Age a Factor When Considering Cosmetic Dentistry?
You probably already know that people today are living longer than ever before. This is due to more advanced medical care and widespread knowledge on how to stay healthy. In fact, current seniors have the most active and social lifestyles in history.
It only makes sense that more older adults want to invest in the appearance of their teeth. Older patients are also more likely to have developed structural and cosmetic dental issues over time. The good news is that there are all sorts of aesthetic treatments that can benefit you.
What Are My Cosmetic Dentistry Treatment Options?
Your ideal cosmetic dentistry option awaits – it just depends on what you need.
Teeth Whitening: Stains and discoloration on your enamel can occur for a variety of reasons, including age, genetics, and even the use of certain medications. With professional in-office treatment, your teeth can be brightened up to 10 shades in one hour! Plus, customized take-home kits give you the ability to touch up your results.
Porcelain Veneers: This is an excellent cosmetic choice for patients with several dental flaws that may need correcting, such as chips, cracks, stains, or even gaps. They consist of a very thin, beautiful piece of dental ceramic that is personalized for each patient and designed to fit over your existing teeth. The process takes two visits, and an effort is made to ensure they feel natural and comfortable.
Tooth-Colored Fillings: In addition to repairing decayed or broken teeth, tooth-colored filling materials can also be used to correct and conceal purely cosmetic flaws. The putty-like composite resin is applied directly to your smile, filling in gaps between teeth, repairing chips, or concealing staining. Then, the composite is hardened into position.
Whether you are 37 or 73, you are the perfect age for cosmetic dental treatment. It just depends on your smile goals as to the path you take. A consultation with your Los Alamitos cosmetic dentist will get you started!
About the Author
Dr. William Poe earned his dental doctorate from USC and has been working hard for his patients for more than three decades now. Dr. Poe has participated in advanced cosmetic education courses at the prestigious Las Vegas Institute. Less than two percent of all dentists have achieved the level of education that LVI has to offer. If you are interested in cosmetic dentistry, Dr. Poe offers all the treatments referenced above. Schedule a consultation on his website or call (562) 594-5067.