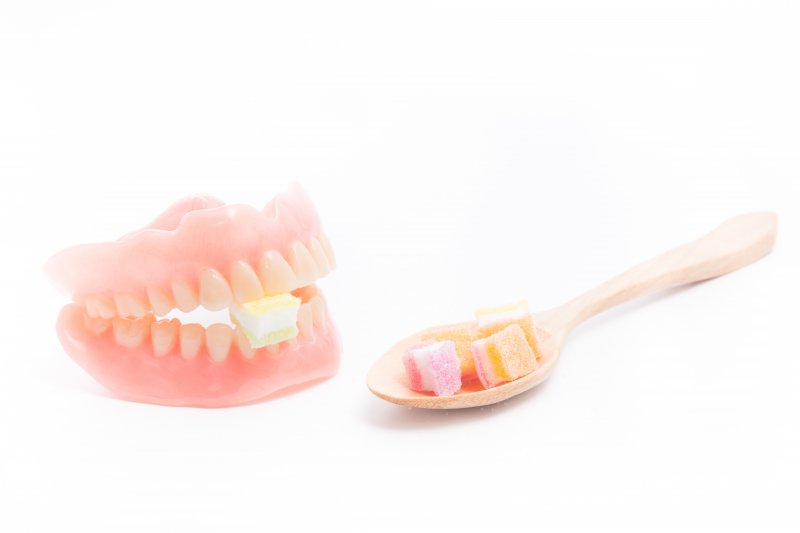 As you get older, it's normal to lose your ability to do certain things as you did before. Maybe you can't run quite as vigorously or need more help doing household tasks. The aging process even leads to a decline in your sense of taste. However, the latter can be affected by dentures as well. In other words, your false teeth may interfere with your ability to sense flavors. To learn more, here's a summary of the relationship between dentures and taste from your Los Alamitos dentist.
Why Do Dentures Affect Taste?
Remember that dentures aren't natural teeth made of enamel, bone, and other tissue. They're artificial and thus have qualities that can impact your sense of taste. Three of these features are listed below.
They Need Denture Cream
You may try to compensate for poorly-fitted dentures by using more significant amounts of adhesive. Unfortunately, that method could easily affect your taste.
Denture creams can easily interact with your tongue, inner cheeks, and palate when overused. As a result, you may experience a lingering metallic taste that overwhelms the flavor of other foods and drinks.
They Collect Food Deposits
As you use them over time, your dentures will collect food deposits, stains, and other "leftovers." If these elements build up enough, they can contribute to taste loss.
These facts make sense when you think about it. Tasting the meal in front of you can be challenging if you also sense bits of a days-old lunch.
They Can Cover Taste Buds
Full upper dentures are known to sometimes conflict with tasting flavors.
You see, this type of prosthetic often uses a base plate to keep it secure. As a result, it may cover the taste receptor cells on the roof of your mouth.
Tips for Improving Your Sense of Taste
Luckily, dentures' effects on taste can be corrected with the right steps. Some of these include:
Get better-fitting dentures so you don't need to use bitter-tasting denture creams and adhesives.
Clean your dentures so they don't build up food deposits and stains.
Try implant dentures that don't need a base plate, as these wouldn't cover the taste buds on the roof of your mouth.
You shouldn't have to give up your sense of taste any more than necessary. Therefore, talk to your local dentist to see if your dentures are hurting your meals.
About the Author
Dr. William C. Poe is a dentist in Los Alamitos, California, having earned his DDS from USC Dental School. He has practiced dentistry for over thirty years, always showing dedication that translates to great smiles for his patients. As such, his services include high-quality preventive, cosmetic, and restorative dental procedures, not to mention emergency treatments. Dr. Poe currently practices at his self-titled clinic and can be reached at his website or by phone at (562)-594-5067.