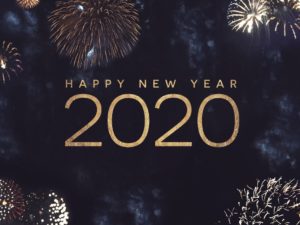 It's that time of year when everyone is making New Year's health resolutions, which are usually geared towards exercising more or better eating habits. But did you know that your oral health has an equally big impact on your general health? Not to mention that a healthy smile helps you eat, speak and smile with confidence, which is important for both your personal and professional life. And the best part? It's easier than you think to improve your oral health in the new year! Keep reading to learn how your teeth and gums affect the rest of your body. You'll also find out how getting a checkup from a dentist will make 2020 happy and healthy from the start.
The Link Between Oral Health and Your Well-Being
Keeping your teeth and gums healthy is hugely beneficial in multiple ways. First, it minimizes the major dental work you need and lowers your risk of painful emergencies, gum disease, tooth loss, and more.
Good oral hygiene habits and regular checkups also help you lead a longer, healthier life, which makes sense when you remember that everything in your body is connected. In fact, researchers have found overwhelming evidence that gum disease increases the risk for all of the following:
Alzheimer's
Heart Disease
Certain Cancers
Stroke
Diabetes
Pregnancy Complications
The connection between these conditions and gum disease isn't fully understood yet. But it's thought that inflammation in the gums spreads to the rest of the body through the bloodstream, including the heart, brain and every major organ.
Easy New Year's Oral Health Tips
First and foremost, schedule a checkup and cleaning with a family dentist. By removing the plaque and tartar under your gumline that you can't remove at home, you'll greatly lower any inflammation in your gums.
In addition to preventing or managing gum disease, these visits allow a dentist to find problems such as cavities when they're small and easier to treat. They also keep your teeth clean so that your smile looks its best.
Along with professional care, it's important to maintain your teeth and gums at home by brushing twice a day and flossing once. To get the most from your oral hygiene routine, ask a dentist or hygienist to demonstrate the best technique and recommend the best tools for your needs (e.g. electric toothbrush, floss picks, oral irrigator, etc.)
Ultimately, a healthy mouth leads to a healthy body and minimizes the time you spend in the dental chair. So any efforts to improve your oral health in the new year are well worth it!
About the Author
Dr. William C. Poe is a family dentist with more than 30 years of experience. With genuine concern for the well-being of his patients, he provides top-notch dental care and always offers tips to help them lead happy, healthy lives. If you'd like to know more about improving your oral health in the new year or have any questions, he can be reached via his website.