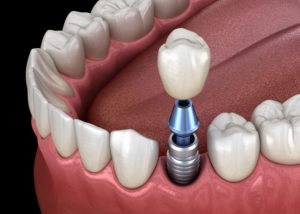 Despite the latest innovations in dentistry, tooth loss is a common problem. Now, there are more options than ever to replace your missing teeth, like dental implants in Los Alamitos. Although traditional prosthetics now closely mimic your natural teeth, over 500,000 people per year are turning to dental implants, and for good reason. As the next best thing to your real teeth, you'll enjoy unmatched benefits that aren't possible with any other treatment.

1. Replaces the Entire Tooth Structure
Traditional dental prosthetics replace the portion of the tooth that's visible above the gum line. This restores the function and appearance of your smile, but it doesn't stop complications brewing beneath the surface, like bone loss in your jaw.
Dental implants replicate the entire structure of your tooth, including the root. A titanium implant post is surgically placed into your jawbone to act as a new root. This stops bone loss using a nearly perfect replica of your real tooth.
2. Looks and Feels Natural
All-ceramic material is used to create your restoration to meet your exact needs. Your replacement tooth will match the size, shape, and color or your natural ones, so no one will know it isn't real. Not to mention, it will also feel natural because your jawbone is supporting it.
Your jawbone fuses to the post through a process called osseointegration. This eliminates slipping and irritation to restore as much as 70% of your natural biting force, so you can enjoy your favorite foods again.
3. Solution that Can Last for Decades
With the right foundation and aftercare, your dental implants can last for a lifetime. In fact, they have over a 95% 10-year survival rate. This allows you to make a long-term investment in your smile because you'll never need to worry about having your dental implants replaced. This is a cost-effective solution that can eventually pay for itself.
You can ensure your new smile lasts by maintaining your oral hygiene at home and visiting your dentist regularly for a cleaning and checkup. If an issue arises, don't wait to contact your dentist.
4. Improves Your Oral Health
The implant posts stimulate your jaw to prevent you from losing density in your bone. Keeping your bone healthy stops dental drift that's often associated with tooth loss. As a result, any remaining natural teeth will have the support they need to stay in place. This reduces your risk of tooth decay, gum disease, and additional tooth loss.
Invest in Your Smile Today!
You deserve to benefit from the best solutions in dentistry. See for yourself why dental implants are a preferred option to treat tooth loss.
About Dr. William C. Poe
Dr. William C. Poe has undergone advanced training in many areas of specialty, including cosmetic, neuromuscular, and implant dentistry. He offers the latest solutions to treat tooth loss. Voted Best Dentist in Los Alamitos in 2016, you can rest assured your smile is in good hands. Contact our office today to schedule your consultation for dental implants.