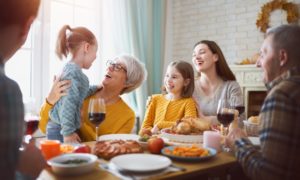 The holidays can be a hectic time of year filled with sugary pies, seasonal candies, and delicious sweet potato casseroles that children gravitate to. As a parent, the last thing you need on your plate is a small smile riddled with cavities, infections, or bad breath. To avoid unexpected visits to your family dentist and to keep every mouth under your roof free of oral health issues, your best bet is to follow these four tips for good hygiene and prevention during the holidays.
Stick to a Routine
With the children being out of school in both November and December, their schedules and daily routines will inevitably change. To avoid their oral hygiene routine becoming affected by this change-of-pace, be sure to make sure they continue brushing at night and in the morning, and flossing at least once a day. This will help them avoid forming any common oral health problems, preventing unexpected visits to your local emergency dentist due to uncomfortable toothaches.
Keep Everyone Hydrated With Plenty of Water
One way you can curb your little one's sugar intake and rinse their mouth of food particles and harmful oral bacteria is to keep them hydrated with plenty of water. For the holidays, encourage them to keep a reusable water bottle on them at all time, that way if they get thirsty, instead of heading to the refrigerator for a glass of fruit juice packed with added sugars, they sip on their healthy, hydrating, sugarless water.
Start the Holiday Season With a Family Trip to the Dentist
There's nothing that will allow you to enjoy the holiday season like scheduling your entire family's routine checkups and cleanings with your family dentist. While all of your children are on break and have free schedules, you can get everyone's clean bill of health, giving you the peace-of-mind you need to feel grateful and joyous for the rest of the season. Plus, your family dentist offers children's preventive services like dental sealants to shield your child's teeth from cavity development, ensuring their oral health stays in tip-top shape throughout the season.
Substitute Healthy Snacks Whenever Possible
Most people's diets change during the holidays because of the massive array of seasonal side dishes and snacks that are only served once a year. To keep your mouth healthy, you don't have to completely steer clear of these. Instead, try to substitute healthier options every now and then to prevent exposing your mouth to sugars and carbohydrates constantly. Fresh fibrous vegetables like celery and carrots actually act as natural toothbrushes whenever you chew them, brushing away plaque and food debris, so they're a great option.
The holidays can be chaotic, especially if you have a big family. Worrying about toothaches and cavities is the last thing you need on your plate. Instead of spending your valuable family time at the emergency dentist, follow your professional's oral health advice along with these four holiday prevention tips.
About the Author
Dr. Willian Poe has been practicing dentistry since 1989. Over the years, he has completed extensive advanced training in cosmetic, neuromuscular, and orthodontic treatment techniques. He's dedicated to encouraging his small patients to get excited about taking care of their smile and providing them with the highest quality of preventive dental treatments. As an active member of several professional organizations, he also stays up-to-date with the latest advancements in his field, allowing him to achieve recognitions like being voted Best Dentist Los Alamitos in 2016. For questions or to schedule your family's routine appointments, visit his website or call 562-594-5067.