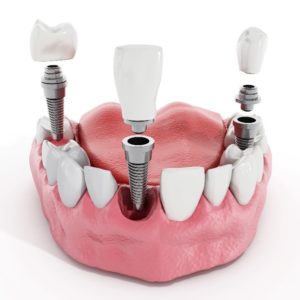 If you're among the 120 million Americans who are missing at least one tooth, you can enjoy the next best thing to what nature gave you with a dental implant. This revolutionary treatment replicates the entire structure of a lost tooth to deliver results that aren't possible with any other option. Before you're ready to invest in your new smile, there's one question you need to have answered — are dental implants painful? Don't worry, here's what you can expect while on your journey to a complete smile.

Is the Dental Implant Process Painful?
Replacing your missing teeth with a dental implant will require a multi-phased treatment plan that includes oral surgery. There will be some discomfort, but it is easy to manage. Throughout each step of your treatment, your dentist will explain what you can expect when it comes to your comfort.
Implant Placement Surgery
Oral surgery is used to strategically insert your dental implant into your jawbone. Often, a local anesthetic is all that's needed for a single unit implant; however, your dentist may recommend sedation or anesthesia if you need more than one. No matter how many teeth you're replacing, you can sit back and relax comfortably while your dentist rebuilds your smile.
Dental Implant Recovery
After the effects of your anesthetic dissipate, it's normal to have some pain or tenderness, but many patients say it isn't any worse than after a tooth extraction. An over-the-counter pain reliever is often all that's needed.
It's best to avoid anything that may cause pain or irritation to the surgical site, so you'll want to stick to a soft diet for a few days to allow your mouth to heal. Within 5 to 7 days, your discomfort will have significantly improved or gone away completely.
Abutment Placement
It will take several weeks for the implant post to integrate with your jawbone. After you've healed, you'll need a second minor surgery to place an abutment on the post. A local anesthetic is used while your gum tissue is opened to expose the post before placing the special fixture on it. It's normal for your gingival tissue to be a bit tender or inflamed for a few days afterward. It will take about 2 weeks for your gum tissue to heal around the abutment to allow your restoration to be placed.
When Should I Call My Dentist?
After getting your new teeth, you may have a bit of tenderness and it will take some time to get used to them. In no time at all, they will closely feel natural, and you won't have any discomfort.
Within 2 or 3 days after your implant placement surgery, your pain should gradually improve each day. If it worsens or doesn't get any better, it's best to err on the side of caution. If you develop any signs of an infection, like swelling or redness, or you have concerns about your pain level, don't wait to call your dentist.
Don't let the fear of surgery stop you from replacing your missing teeth. Modern advancements in dentistry will keep your pain to a minimum when choosing dental implants in Los Alamitos.
About Dr. William C. Poe V.
Dr. Poe has been practicing dentistry since 1989. Supported by his qualifications and experience, he was voted best dentist in 2016. He has extensive training in many areas of specialty, including cosmetics, neuromuscular, and implant dentistry. He has the solutions you need to treat your tooth loss. Contact our office today to schedule your consultation to invest in your smile.