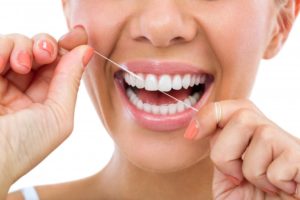 Most of us know that we need to brush and floss regularly to have a healthy mouth. However, a lot of us aren't sure which type of floss we should use – string floss or a water pick. There are advantages and disadvantages to both, so it can be hard to choose. Fortunately, a dentist in Los Alamitos is here to weigh in.
The Pros of Traditional Flossing
There are a few pros to using the classic method of flossing, such as:
It doesn't cost much money.
You can find it in pretty much every store.
It can be done anywhere.
The Cons of Traditional Flossing
On the other hand, regular flossing may have some disadvantages, including:
It can be difficult to reach some areas of the mouth.
Flossing can cause minor bleeding, especially if it isn't done regularly.
Some people may have difficulty handling traditional floss.
Gum sensitivity can be worsened.
The Benefits of Water Flossing
Water flossing, also known as water picking, uses a machine that directs a stream of water into the mouth. The pressure of the water can be used to remove plaque and food from between the teeth. Some pros of water flossing include:
It's easy to use for people with braces or other dental work.
People with mobility or dexterity issues can benefit from its ease of use.
It can clean areas that are hard to reach with traditional floss.
The water is smooth on gum tissue.
The Drawbacks of Water Flossing
There are also many cons to water picking. Some of those cons are:
The water pick machine can be expensive.
You will need space to store the machine, and it can't exactly be taken in your purse.
It requires access to electricity and water, which makes it difficult to use when you are away from home.
Why Is Flossing Important?
No matter which method you choose, flossing is crucial to your oral health. It gets rid of bits of food that have been left in between your teeth. When these bits are allowed to stay there, they attract bacteria that can cause cavities and even gum disease. If gum disease is left untreated, it can cause your gums to recede and your teeth could become loose, or even fall out! This is why it's always beneficial to floss, no matter how you do it.
About the Author
Dr. William Poe has more than three decades of dental experience under his belt, with specialities in cosmetic, orthodontic, and neuromuscular treatment. He has achieved Fellowship status in the International College of Cranio-Mandibular Orthopedics and a Masters from the Straight Wire Seminars for Orthodontics. To learn more about how flossing can make your smile great in Los Alamitos, CA, contact Dr. Poe here or give him a call at (562)-594-5067.