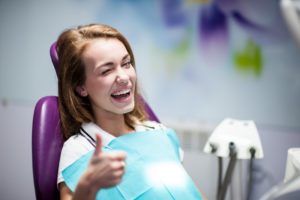 When you think of a routine visit to your dentist in Los Alamitos, you may envision a cleaning being performed, but is that all you stand to gain? A local dentist says there is much more to benefit from a preventive care appointment. As you read on, learn why it's so important to receive an oral cancer screening and discover what it entails.
The Threat of Oral Cancer
Statistics show that incidences of oral cancer are on the rise, as nearly 50,000 people are projected to be diagnosed with the condition this year alone. This statistic shouldn't be ignored, given that up to 9,000 people are expected to succumb to the disease.
To shed light on the problem, April has been designated as National Oral Cancer Awareness Month, and dentists are encouraging patients to take a more proactive approach to their oral health by scheduling preventive care visits, where they will receive a thorough cleaning, an examination and an oral cancer screening.
What the Oral Cancer Screening Entails
Typically, this aspect of the visit is conducted in two parts.
Visual Assessment
The examination begins with your dentist visually assessing your face, neck, lips, the inside of your nose and your oral cavity. Some of the usual warning signs he or she will be on the lookout for are asymmetries, swellings, bumps, white or red patches and ulcerations.
Hands-on Examination
The screening continues with your dentist probing your head and cheeks, around the jaw, under the chin and the inside of the mouth to feel for any unusual growths. Then, if any are found, further tests can be conducted to determine the presence of oral cancer.
Positive Outcomes Through Early Identification
By taking a proactive stance for your dental health and undergoing an oral cancer screening, you have the opportunity to catch any developments in the fledgling stage. Statistics show that with early detection, the five-year survival rate is as high as 75%. If the disease is allowed to accelerate, though, the chance of survival dips significantly to around 20%.
The main takeaway is that visiting your dentist for preventive care every six months is never a waste of time, and it very well could be a life-saving event. Here are some other ways you can protect yourself:
Avoid tobacco usage
Increase your water intake
Avoid over-exposure to the sun
Monitor any alcohol consumption
Brush and floss your teeth after every meal
Monitor your consumption of foods and beverages high in sugar
Now that you're better informed about the importance of receiving preventive care and an oral cancer screening, the next step is to reach out to your family dentist in Los Alamitos to schedule a visit.
About the Author
Dr. William C. Poe earned his dental degree from USC Dental School. He has since gone on to provide 30 years of top-notch care. To further expand his knowledge and hone his skills, Dr. Poe maintains professional affiliation with such organizations as the California Dental Association, Harbor Dental Association and the Academy of General Dentistry. He provides preventive care at his private practice, and he can be reached for more information through his website.