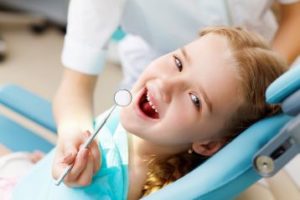 When you think of the health conditions that affect children the most, you probably think of allergies or the common cold. But you might be surprised to learn that the most common untreated childhood disease is actually tooth decay! In fact, the Center for Disease Control states that an estimated 1 out of every 5 children aged 2-11 has at least one cavity. But, fortunately, cavities are 100% preventable. Since February is National Children's Dental Health Month, it's the perfect time to learn some valuable information about children's oral health and how you can help your child have a healthy smile. Keep reading for 3 tips to minimize the dental work they need from a children's dentist in Los Alamitos and give them a lifetime of great dental health!
1. Establish Good Oral Hygiene From an Early Age
Many kids struggle with brushing and flossing habits, so starting as early as possible will make it easier later on. Children of all ages respond well to routine, which can be simply wiping your child's gums with a damp cloth twice a day when they're an infant, or creating a reward system for when your toddler lets you brush their teeth twice a day.
Also, avoid putting your child to bed with a bottle that has anything other than water in it, since even milk and formula has sugars that can lead to severe cavities (called baby bottle tooth decay).
2. Check Your Child's Oral Hygiene Habits
If your children are older and are brushing and flossing their own teeth, this month is a great time to double check that they're doing a good job. The recommended brushing time is 2 minutes, but many kids only brush for 20-30 seconds, which isn't adequate to keep their smile healthy!
One easy way to encourage them to brush for the recommended time is either to play a song for 2 minutes or get them an electric toothbrush for kids, which automatically stays on for the right amount of time.
3. Schedule Your Child's First Checkup By Age 1
The American Dental Association recommends that children see a dentist for the first time within 6 months of getting their first tooth (or around their first birthday). If your child is older than that, simply schedule them as soon as possible.
Here's what you can expect at your child's first checkup:
A dentist will spend time reviewing your child's medical and dental history and you'll have an opportunity to ask questions.
Your child won't get X-rays or a cleaning until they're about 3-4. Earlier than that, they'll get visual exams to make sure everything is normal and healthy.
A dentist will discuss the best way to keep your child's teeth clean at home and will recommend the best products to use.
If you don't live in an area with a fluoridated water supply, a dentist can prescribe supplements to help your child's teeth develop as strong as possible.
Finally, your child will get a new toothbrush and pick out a toy, which will probably become their favorite part of their appointments.
With these 3 tips, you'll be giving your child the best chance of having a healthy, beautiful smile their entire lives!
About the Author
Dr. William C. Poe is a dentist in Los Alamitos who loves working on patients of all ages. His goal is to help his pediatric patients establish great oral health at an early age so they can have a healthy smile well into adulthood. If you have any additional questions about your child's dental health, he can be reached via his website.