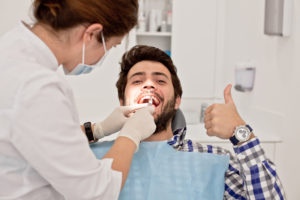 You've made your resolutions for the new year, and you're busy taking the steps to bring them into fruition, but your dentist in Alamitos asks, "Have you taken the time to set any goals for your oral health?" If not, learn why now is the perfect time to start a new trend and how committing to visiting your dentist on a regular basis can give your oral health a boost!
The Benefits of Visiting Your Dentist
When it comes to treating dental health issues, the best route to take is to prevent them from ever happening. One way to accomplish this is to visit your dentist every six months for checkups and cleanings.
By doing so, you'll be able to counteract the ongoing nemeses of your oral health, which are bacteria. Always present in your mouth, they are attracted to food particles that are left after you eat and drink. If the bacteria are allowed to grow, they will eventually form plaque that can seep beneath the gumline to cause havoc.
Regularly visiting your dentist, though, provides a way to stop any emerging problems before they can become bigger issues. These appointments are also educational, as they offer an opportunity for you to learn ways to improve your dental hygiene, which will lead to better oral health.
Giving Your Wallet a Break
Taking the initiative to visit your dentist semi-annually will also amount to big savings. The following lists ways that you can spare your wallet:
Preventive care appointments are usually fully covered by dental insurance companies, which is a welcomed perk.
You'll be able to better maximize the benefits that you pay for all year and prevent a waste of your investment.
There will be less of a chance of you needing complex and more expensive forms of care when you maintain semi-annual visits.
The Perfect Time to Start!
This is the perfect time to start a new trend of maintaining your oral health because most dental insurance companies renew coverage at the start of a new year. Unfortunately, though, most of those insured won't take full advantage of their available coverage.
You have an opportunity to reverse this trend, though. By receiving preventive care from your local dentist, you'll discover how recommitting to your oral health can enhance your overall wellness while ensuring that you maintain a fully-functional and beautiful smile.
Your path to a new life starts today!
About the Author
Dr. William C. Poe earned his dental degree from the USC Dental School. He has since gone on to provide 30 years of expert and compassionate care in a variety of modalities, ranging from cosmetic care to the treatment of neuromuscular conditions. Voted Best Dentist Los Alamitos 2016, Dr. Poe remains just as committed to caring for his patients as he was when he first entered the dental field. He provides preventive care at his private practice, and he can be reached for more information through his website.