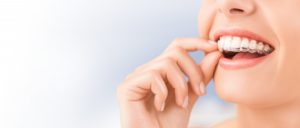 If you have gapped, crooked, crowded or misaligned teeth, then it's natural to desire a better-looking smile. The problem is you don't want to endure the metal appearance of traditional braces to correct your bite. Thankfully, there is an alternative in Invisalign in Los Alamitos, but is the procedure affordable? How can you get an accurate quote? Read on to find answers to these questions.
How the Invisalign Process Works
Instead of adjusting your teeth with metal wires and brackets, the Invisalign method uses clear, plastic trays to correct your bite. The process starts with visiting your dentist for an examination.
While there, digital X-rays are taken and, along with bite impressions, they are sent to an Invisalign-certified lab that will create a series of aligners that will gradually correct your bite. You'll wear each set for two-week increments and discard them for the next pair in the series, maintaining this pattern until your bite is corrected.
What is the Investment?
The cost of treatment with Invisalign can range from $3,500 to $5,000, some of which may be covered by your dental insurance if you have orthodontic care included in your plan. The only way to get an accurate quote, though, is to visit your local dentist to first be examined.
The specialist will take into account the complexity of the care you need and the number of trays that your treatment will require. Then, you'll be given a detailed explanation of what the treatment will entail and the associated cost.
Why Invisalign is the Best Option
There are several advantages to having your teeth straightened with the Invisalign method, which include following:
You'll be able to maintain a normal diet because you'll simply remove the aligners to eat.
There are no changes needed in your oral hygiene regimen, so you can brush and floss your teeth as you normally would.
The clear aligners prevent you from attracting any unwanted attention to your teeth.
You won't have to visit your dentist every four weeks for adjustments, which is a typical requirement when fitted with metal braces.
What's the Next Step?
The only thing left to do is to reach out to your dentist in Los Alamitos to schedule a consultation. While there, you'll be able to ask any remaining questions you have about the procedure, and you'll receive a thorough examination to determine your eligibility for the procedure.
With Invisalign aligners, you can expect to enjoy greater confidence and improved oral function. Your path to a beautiful new smile starts today!
About the Author
Dr. William C. Poe earned his dental degree from the USC Dental School, and he has been practicing dentistry for nearly 30 years. Throughout his career, he has received extensive training in different orthodontic treatment techniques, including advanced postgraduate education from the United States Dental Institute for Orthodontics. Additionally, Dr. Poe has earned a Masters in Orthodontics from the Straight Wire Seminars for Orthodontics. He uses his expertise to help patients enjoy the smile of their dreams with Invisalign at his private practice, and he can be reached for more information through his website.