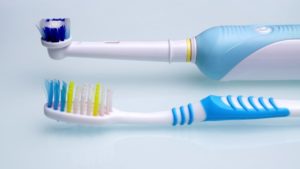 As long ago as 3000 B.C., ancient Egyptians used handmade toothbrushes made from twigs and leaves to clean their teeth. People are still brushing their teeth today, but with one big difference: the variety of brushing products. Nowadays, there's so many different brushes on the market, how do you know which one is right for you? Read on to learn the pros and cons of electric and manual brushes and which one is best for you from a dentist in Los Alamitos.
Advantages of Electric Toothbrushes
An electric toothbrush has bristles that vibrate and rotate to clean your teeth. See some of the benefits an electric toothbrush will bring you below:
Better plaque removal: A study shows that electric toothbrushes reduce plaque by 21% and gingivitis by 11% compared to manual toothbrushes.
Easier for people with mobility issues: Since electric toothbrushes rotate and vibrate, they do most of the work for you. If you have carpal tunnel, arthritis, or physical disabilities, an electric toothbrush can help brush your teeth without as much physical work on your part.
Built-in timers: Do you struggle to brush your teeth for 2 minutes each session? Most electric brushes have timers to make sure your teeth are getting their full brush!
Disadvantages of Electric Brushes
The biggest disadvantage electric brushes have compared to manual is their cost. Prices can range from $15 to $250 per brush. Thankfully, replacement heads can be bought for much less, so you won't have to buy a whole new brush when your bristles get worn out.
Additionally, electric brushes need to be charged so if you travel a lot, you should keep a backup if your brush isn't charged or you forget your charger.
Advantages of Manual Toothbrushes
Even though these brushes don't have the technology electric brushes have, there's nothing wrong with them at all. Their price is a real benefit—you can buy a good manual toothbrush for under $4. Also, they're easily accessible. Manual toothbrushes can be found in many different types of stores and they never need to be charged so they're easy to travel with.
Disadvantages of Manual Brushes
One study shows that people are more likely to brush too hard (which can hurt your gums and teeth) with manual brushes. Another disadvantage is that people don't know how long they have brushed for. Some may brush for too little, while some may overbrush.
The main deciding factor when choosing between an electric or manual brush is which one will make you want to routinely clean your teeth more? Some people like the vibrating feeling on their teeth from an electric brush, while others like to be in full control of their manual brush. If you have any mobility issues or feel you struggle to reach every area of your smile with a manual brush, try using an electric one for an easier cleaning. Are you having trouble deciding? Talk to your local dentist about what they'd recommend.
Meet the Dentist
Dr. William Poe takes pride in offering dentistry for the whole family. He gets to know his patients to provide them with personalized care and recommendations on how to keep their smile healthy and clean. He attends continuing education courses to stay up-to-date on the latest treatments. He currently runs his own practice where he can be contacted through his website or by phone at (562) 594-5067 for any questions.